Developing a peer to peer web for iOS
To establish peer to peer (p2p) communication on iOS devices there is an API for that known as the Multipeer Connectivity framework. There are a couple of things to bear in mind about this framework:
Discovers and connects with iOS devices but will not discover devices on other platforms like Android
Maximum number of 7 invitees (client peers)
Will raise a prompt for user acceptance of a peer connection request
Intro to Thali project for iOS
Thali is an experimental open source p2p project that promises to enable p2p web to run on mobile devices. This is quite a big undertaking so to make life easier to begin with we can start to look at the iOS to iOS p2p connectivity story which is documented as Thali "Story -1".
The spec will use the TCP internet standard to transport data across peers therefore all mobile devices will run a Node.js layer. In order to run Node.js on iOS we use a Cordova plugin which runs JXCore. This will then connect with a native TCP bridge which will relay the data over the iOS Multipeer Connectivity framework. The flow is illustrated in the diagram below: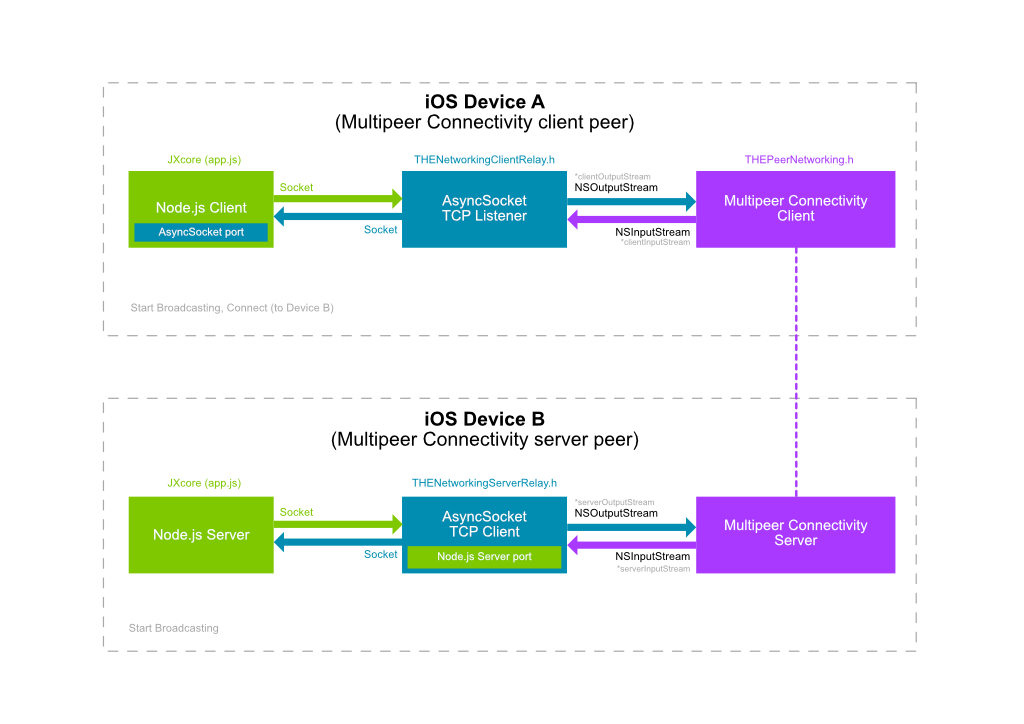 How to build Thali demo for iOS
If you like playing with bleeding edge code you can build the "Story -1" iOS dev branch. (NB: You will need two iOS devices with Bluetooth 4.0 support.)
To run this build script in Terminal you will need Node.js. If you haven't already got Node.js installed you can get Node.js with NVM for Mac OS X.
Install the Cordova package:
Build Thali "Story -1" demo for iOS:
#!/bin/bash




HOME_DIR

=

"Code"




PROJECT_DIR

=

"ThaliTest-1-ios"


mkdir 

-p

 ~/

$HOME_DIR




cd

 ~/

$HOME_DIR


cordova create ~/

$HOME_DIR

/

$PROJECT_DIR

 com.test.thalitest ThaliTest


cd

 

$PROJECT_DIR


cordova platform add ios
cordova plugin add https://github.com/thaliproject/Thali_CordovaPlugin.git#story-1-dadougla


# copy sample 'www' dir


cp 

-a

 

-R

 

-v

 plugins/org.thaliproject.p2p/sample/ios/www ./


# build iOS project


cordova build


# open iOS project in Xcode


open platforms/ios/ThaliTest.xcodeproj

How all the parts work inside the Xcode project…
There are three main parts or layers in the Thali iOS project:
Cordova

All demo UI code is handled by "thali_main.js" script.

JXCore

UI actions will trigger a call to functions in "app.js" script which is responsible for running all our Node.js code and calling the native methods as documented in the Thali common API.

Native Plugins

All native methods called from JXCore are registered in "THEAppContext.m" defineJavaScriptExtensions method
What about Android p2p?
More info about Thali for Android is available on Dr Jukka's blog.
What about iOS and Android p2p?
More info about future Thali development including iOS and Android p2p interoperability is documented on Thali stories.